Hello Guests, Friends and Family,
May 27th, 2022 (FRIDAY/Memorial Day Weekend), is our Opening Day! We are accepting reservations on our website for in state and out of state guests. It is our hope that our Canadian friends, families and future guests will have the opportunity to stay with us. At this time, it is not clear if the Canadian boarder will be open to travelers.
The State (Maine) Governor will determine Maine Hospitality rules. Up to date circumstances and guidelines will be posted here.
Please check our Facebook page and our website at www.seagrassinn.me for updates. You can reach us at info@seagrassinn.me with any questions or concerns.
Please read our Covid-19 Plan below.
Peter and Lisa Guidi, Owners, Seagrass Inn, OOB, ME
Please check here and our Facebook page for updates. You can reach us at info@seagrassinn.me with any questions or concerns.
COVID-19 2022 PLAN
Dear Guests and Friends,
Protecting the health of Seagrass Inn guests vacationing at the beach this summer is our highest priority. The Covid-19 pandemic means taking special precautions this summer to protect our guests and staff.  We're taking this opportunity to tell you about the Seagrass Inn, "Bleach the Beach" disinfecting program.  We have consulted with experts and we are taking their advice. We will be using "Hospital" grade disinfectants rather than traditional cleaners. These products kill viruses including Covid-19 and are the same products used to clean ambulances and hospital rooms.
Below are several changes we've made to make the program effective.
We've removed all unnecessary items from the room to reduce the number of surfaces (places a virus can hide and be passed on).
We clean the room, floor (tile), walls, doors and furniture with Hospital disinfectant cleaners.
Once cleaned all surfaces (TV Remote, Switches, doorknobs, fixtures, refrigerator and coffee maker) are sprayed with a Hospital Disinfectant & Deodorizer to prevent the spread of pathogens and kill dangerous bacteria.
Housekeeping will no longer be available during your stay. We are happy to replace your towels and dispose of your trash. Please the Front Desk.
We will eliminate some seating outside of the rooms and expand other seating areas.
In order to expand seating areas, we ask guests to observe our 1 parking space guideline per room. Based on availability, additional parking is available for a $25.00 fee per day. Public parking is within walking distance to the hotel. Parking badges will be given to the booking guest. Automobiles and motorcycles without a parking badge or extending their stay past checkout without an extended stay badge will be towed. We wish we didn't have to go to these measures but incoming guests have been inconvenienced and so we must manage our parking in this manor.
All rooms open to the outside, no elevators, so you can practice the amount of social distancing you desire.
The public BBQ area has been upgraded. There is no cooking in the rooms. There are no Microwave ovens on the property.
Our highest priority is your comfort and safety. Please be assured that we are doing everything possible to meet your needs and to exceed your expectations.
The Seagrass Inn is ideal for guests to continue to practice social distancing as all our rooms have exterior entry doors, no elevators and are adequately spaced to help. The beach is going to be open and with this huge open space it is possible to continue practicing social distancing. Remember, we are only 75 yards from the beach. All that is required is to cross the street. We believe that the summer of 2021 will ultimately be a summer to remember!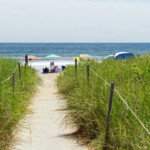 Seagrass Inn Updated Covid-19 Cancellation Policy.
At this time, the State of Maine is open for business. Having said this, Hospitality Maine is at the mercy of our Governor. Should the Governor close Maine to Hospitality, the following Cancellation Policy will go into effect until the Governor reopens the State. 
If you have a current reservation, we encourage you to keep the reservation intact. The closure and opening of Hospitality Maine is determined by the Governor.
If you wish to change your reservation, changes can be made with no charge fees, although the rate may be higher or lower.
If your reservation is cancelled due to the closure of Maine Hospitality, you will receive a refund.
If you choose not to arrive for your reservation and do not cancel your reservation (within 5 days of arrival if booked directly wit us, or 7 days if booked through a third party)  your reservation is considered a cancellation and will be charged for the full reservation.**Travel Agents, Online Bookings (Expedia, Booking, etc) Reservations made through third parties, including online systems, DO NOT BELONG TO THE SEAGRASS INN, until your check-in at the Inn. When making reservations through third parties terms and conditions, and deposits are determined by the third party. Any changes to your third party reservation must be made directly through them. Third party booking engines are very strict and our hands are tied!
If you make a Holiday or High Season reservation while the State of Maine is closed and/or the US border is closed, in hope that the state or border will reopen and does not, you reservation is forfeited and there is no refund.
In the meantime, here are a few notices…
Our office is open but not staffed as we are around the Inn preparing for our opening. We open May 27, 2022.
Incoming phone calls are going direct to Voicemail so please leave a message at 207-934-4866. We check voice messages sporadically in the off season. The best way to reach us is through email.
The website is open. You may book rooms at your convenience.
Email, info@seagrassinn.me
We will promptly reply to your emails.
Many have asked about us at the Seagrass Inn, and we would like to thank you all for your kind messages and emails. We are doing our best to manage the situation and we are looking forward to our 3rd season with a planned opening of Friday May 28, 2021. We will keep you updated periodically with any news we receive.
In the interim we are going about our usual pre-opening routines of decorating, painting, and updating the Inn. Most importantly we are also looking at ways to ensure that you, our valued guests, are totally comfortable when you eventually can visit us in Old Orchard Beach.
We truly thank you for your understanding and wish you and yours the very best. Please be safe and stay healthy and we look forward to seeing you this season!
Sincerely,
Peter and Lisa Guidi, Owners